2017 Cycle Source Twisted Tea Chopper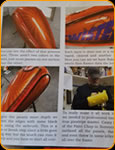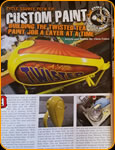 Pinstripe Master Casey Kennell was honored to pinstripe the 2017 Twisted Tea Chopper that the Cycle Source team put together.
The bike will make it's first appearance at Daytona Bike Week.
Visit Cycle Source's Facebook page for videos!
---
Thunder Roads
World class pinstriper Casey Kennell just had a photo shoot at his shop with these models and this awesome bike he striped.
---
Muscle Car of The Year Finalist
Congratulations to Gerry and Mitzi Bailey for being a finalist for Muscle Car of the Year with their 1967 Camaro RS/SS!!! Casey Kennell laid down the hand painted pinstripes.
---
Rare 1933 Dodge Delivery
World Class Pinstriper Casey Kennell just finished pinstriping this beautiful 1933 Dodge Delivery which was a Street Rodder Top 100 in 2016!! Check out the Coyote and Roadrunner at a quarter inch high to match the pinstriping!
---
Holly Carburetor Top 10
Congratulation to Andy Baron of Belle Vernon, PA!! His car was chosen as one of the Holly Carburetor top 10 for 2017. The car will be displayed in Indianapolis, IN for the Big Go NHRA US Nationals! Watch for him on Fox Sports on Labor Day, September 4th, for the parade during the break.
---
Jalopyrama - 2017
Casey Kennell wil be at the 2017 Jalopyrama in Westminster, MD at the Carroll County Agriculture Arena on October 14.
Casey will be striping for the charity auction.
---
1929 Ford Brookville
World famous pinstriper Casey Kennell just laid down some nice old skool pinstripes on this 29' all steel Brookville.