The Next Generation Pinstriper, Casey, Jr.
Casey, Jr pinstriping away. Taught by his grandfather Casey Kennel, Sr the the pinstripe master.
---
Old Skool Tattooing Company
Check out these 4'x4' panels Casey just finished the for the The Old Skool Tattooing Company in Greensburgh, PA.
---
1966 Mosrite Ventures Guitar
Casey was honored to hold this 1966 Mosrite Ventures guitar that his good buddy brought over to show him.
---
Congratulations to Brad Miller for making it the Gas Monkey Garage!
Brad will be making the trip to Texas to The Gas Monkey Garage as the "Super Fan" winner! Keep watching Fast N Loud on the Discovery channel. The Paint Chop painted Brad's very popular car. Stop back for more details!
---
Jalopyrama Reunion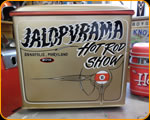 The Paint Chop crew will be striping at the "Jalopyrama Reunion" in the the Carroll County Maryland AG Center Arena in Westminster, Maryland on October 24, 2015. Casey's Rat Rod will also be displayed inside.