1941 Willys Gasser
All hand lettered except a few old stickers by artist Casey Kennell. Giving it the West Coast Vibe!
---
Cycle Source - February 2018
Check out the cover girl on the latest issue of Cycle Source! Casey Kennell from the Paint Chop was on the build team for the Twisted Tea Chopper. Casey did the artwork and pinstriping on this bike that is part of Cycle Sources 20 year celebration for the "A little twisted chopper video sweepstakes".
---
Pinstriping and Hand Lettering Premiere Artwork Pieces
Check out some of the cool artwork that World Class Pinstriper and Hand Lettering Casey Kennell has done over the years for various charities!
---
SUMMIT RACING I-X PISTON POWER AUTO-RAMA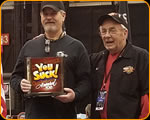 Casey Kennell will be at the Piston Power Autorama
March 16-18, 2018 in Cleveland, OH.
Each year Krazy Paint selects a pinstriper for their most highest pinstriping and lettering "You Suck" award. This years award went to Casey Kennell from the Paint Chop.
Casey humbly accepted the award from one of his best friends and last years recipient, the pinstripe legend, Jack Lindenberger.
Casey said it was an honor to except the award from Krazy Paint and especially Jack.
Casey had a great time striping with Krazy Paint for the charity panel jam. Check Out The Photos >>
---
The Historic STONE HOUSE INN and RESTURANT
Casey's art will be on display and he will be doing some small artwork at the Stone House Bike Kick Off Night May 17, 2018, between 6-9 PM. The Stonehouse is located at 3023 National Pike (rt 40), Farmington, PA.
Visit their web site at: www.stonehouseinn.com
---
45th ANNUAL STREET ROD NATIONALS EAST
Casey Kennell will be at the Street Rod Nationals
June 1-3, 2018 in York, PA.
Casey will be striping with the Brush Brigade to raise money for the for the Make-A-Wish Foundation.