2017 Cycle Source Twisted Tea Chopper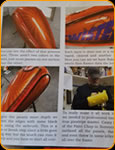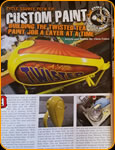 Pinstripe Master Casey Kennell was honored to pinstripe the 2017 Twisted Tea Chopper that the Cycle Source team put together.
The bike will make it's first appearance at Daytona Bike Week.
Visit Cycle Source's Facebook page for videos!
---
Thunder Roads
World class pinstriper Casey Kennell just had a photo shoot at his shop with these models and this awesome bike he striped.
---
More Pinstriping
Striped another new Bentley, Duramax and Camaro.
---
Street Rod Nationals East, York, PA
Casey Kennell was at the Street Rod Nationals East in York, PA on June 2-4, 2017.
Casey will join the York Brush Brigade and help raise money for Make-A-Wish.
---
Trucks for Smiles - 2017
World famous pinstriper Casey Kennell from The Paint Chop had record setting art panel for Truck For Smiles, Make A Wish, Charity Auction at historic Jennerstown Speedway. The panel fetched $5000! WOW FACTOR!!
For more information visit www.trucksforsmiles.com