Billy Gibbons
ZZ Top's guitarist and lead vocalist Billy Gibbons checks out the murals and pinstriping on Brad Miller's ZZ Top Tribute car The Paint Chop painted and striped. What an honor to have Billy sign the dash!!
---
The Paint Chop Cover Bike
Check out the October issue of the PA Thunder Roads Magazine.
The Paint Chop painted Ken Clark's Harley Davidson with sidecar that is featured on the cover as well as the centerfold calendar.


---
Congratulations to Brad Miller for making it the Gas Monkey Garage!
Brad will be making the trip to Texas to The Gas Monkey Garage as the "Super Fan" winner! Keep watching Fast N Loud on the Discovery channel. The Paint Chop painted Brad's very popular car. Stop back for more details!
---
Jalopyrama Reunion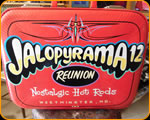 The Paint Chop crew was striping at the "Jalopyrama Reunion" in the the Carroll County Maryland AG Center Arena in Westminster, Maryland on October 24, 2015. Casey's Rat Rod was also displayed inside.