June Issue Cycle Source
Check out Psycho Buzzard in this months issue of Cycle Source.
---
Tri-Star Car Show
Casey Kennell hand painted this panel for the charity auction at the 2nd annual Tri-Star car show held at the historic Jennerstown Speedway. It fetched $1800 for the charity.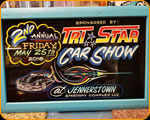 ---
Pinstriping and Hand Lettering Premiere Artwork Pieces
Check out some of the cool artwork that World Class Pinstriper and Hand Lettering Casey Kennell has done over the years for various charities!
---
Jalopy Showdown
Casey Kennell, Owner of The Paint Chop, presented this gfft to Scarry Larry Garlin, the promoter for Jalopy Showdown.
---
45th ANNUAL STREET ROD NATIONALS EAST
Casey Kennell will be at the Street Rod Nationals
June 1-3, 2018 in York, PA.
Casey will be striping with the Brush Brigade to raise money for the for the Make-A-Wish Foundation.