Burn Out For BRIE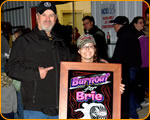 A successful fundraising event was held at the historic Jennerstown Speedway for 15 year old Brie Purdy.
$11,500 was raised to help Brie and her family with
medical bills and other expenses.
---
34' - 5 Window Coupe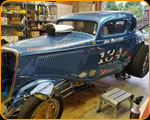 Check out this is a Chrysler Hemi AA Fuel Coupe that was run in the 70's. It has the old fiberglass body and is still running in 6's in the 1/8 mile.
Casey is touching up the old stickers from back in the day.
---
Muscle Car of The Year Finalist
Congratulations to Gerry and Mitzi Bailey for being a finalist for Muscle Car of the Year with their 1967 Camaro RS/SS!!! Casey Kennell laid down the hand painted pinstripes.
---
1954 Chevrolet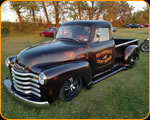 Check out Jonas Klink of Somerset, PA 1954 Chevrolet.
Casey hand lettered the doors to make them look old.
---
Jalopyrama - 2017
Casey Kennell will be at the 2017 Jalopyrama in Westminster, MD at the Carroll County Agriculture Arena on October 14.
Casey will be striping for the charity auction.
---
SUMMIT RACING I-X PISTON POWER AUTO-RAMA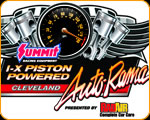 Casey Kennell will be at the Piston Power Autorama
March 16-18, 2018 in Cleveland, OH.
He will be striping with Krazy Paint for the charity panel jam.