A tribute to Casey's son from a loving dad.
Casey Jr. fought a long hard battle with asthma and a weak heart. He passed away December 14, 2014 at 38 years old.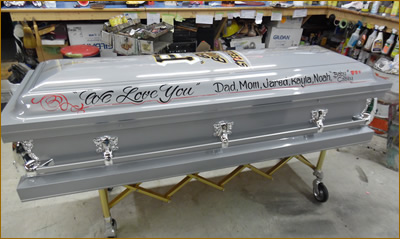 ---
Paint Chop News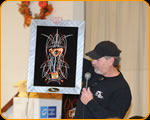 "The American Pinstriper" - Casey Kennell's old school symmetrical pinstriping style has been recognized by some of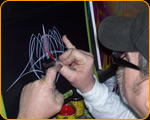 the top hotrodders and motorcyclist enthusiasts across the globe!!! His hand lettering has been recognized as some of the best you'll ever see.
His style and performance is still rated top notch work at 62 years old. What a nice tribute after forty years of dedication in his craft.
---
Pittsbugh World of Wheels
The Paint Chop crew had a great time at the World of Wheels in Pittsburgh at the David L. Lawrence Convention Center striping with the High Scrollers for the charity Auction on January 23-25, 2015.
---
I-X Piston Powered Auto-Rama
The Paint Chop crew will be at the Piston Powered Auto-Rama in Cleveland, Ohio at the International Exposition Center on March 20-22, 2015 striping with Krazy Paint for the charity Auction.