Paint Chop News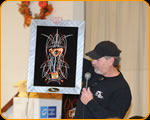 "The American Striper" - Casey Kennell's old school symmetrical pinstriping style has been recognized by some of the top hotrodders and motorcyclist enthusiasts across the globe!!! His hand lettering has been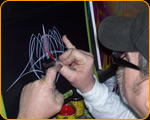 recognized as some of the best you'll ever see.
His style and performance is still rated top notch work at 62 years old. What a nice tribute after forty years of dedication in his craft.
---
Congratulations to Jerry Bailey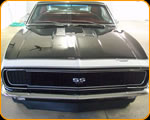 Jerry received first place in his class at the Camaro Nationals
in Frederick, MD June 14. Casey hand painted the factory pinstripes on the car.

---
National Street Rod Association
The Paint Chop crew had a great time striping with the Brush Brigade to raise money for the for the Make-A-Wish Foundation on June 6 - 8, 2014, during the NSRA-EAST held in the York Expo Center in York, Pennsylvania.
---
Artie' s Party Charity Panel Jam
Casey Kennell will be striping at the Artie' s Party Charity Panel Jam on July 18th, 19th, & 20th at the Syracuse Nationals car show in Syracuse, NY.
---
Jalopyrama #11 - Annapolis Maryland
The Paint Chop crew will be at the 11th annual Jalopyrama in Annapolis Maryland at the National Guard Armory on October 25, 2014.
---
Pinstriping and Hand Lettering News
Worlds famous pinstriper Casey Kennell started in 1974 using One Shot paints for pinstriping and hand lettering. He continues to use only the best "One Shot" and swears by it still today. "There is no comparison to its colors and Vibrancy!"