Another Happy Customer!
---
2011 Harley Davidson with Sidecar
The Paint Chop just finished this Real Flame custom paint job for Ken and Judy Clark.
---
Congradulations to Shawn Tirko!
Shawn won "Best of Show" at the 2015 Annual Alum-Bank Classic Weekend in Alum-Bank, PA.
---
1st Annual "Trucks For Smiles" 2015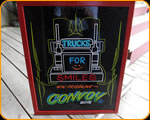 W. W. Friedline, Inc. wants to give truck drivers (and other drivers) a chance to help raise funds for the local Make-A-Wish® Chapter. This Make-A-Wish® Trucks for Smiles Convoy is the perfect way to fulfill some very special children's wishes. Keep in mind, ALL proceeds benefit Make-A-Wish® children within Pennsylvania and West Virginia! Learn More >
Casey donated this panel, it fetched $1100 for the Make-A-Wish® chapter.
---
Take a Cruise in The Paint Chop's Rat Rod!
---
Paint Chop History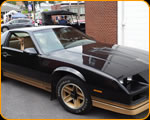 Casey Kennell striped this 1982 Camaro back in 1982. It currently has 9,000 miles on it!
---
Congratulations to Brad Miller for making it the Gas Monkey Garage!
Brad will be making the trip to Texas to The Gas Monkey Garage as the "Super Fan" winner! Keep watching Fast N Loud on the Discovery channel. The Paint Chop painted Brad's very popular car.
---
Jalopyrama Reunion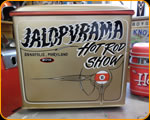 The Paint Chop crew will be striping at the "Jalopyrama Reunion" in the the Carroll County Maryland AG Center Arena in Westminster, Maryland on October 24, 2015. Casey's Rat Rod will also be displayed inside.