Congratulations to Brad Miller for making it the Gas Monkey Garage!
Brad will be making the trip to Texas to The Gas Monkey Garage as the "Super Fan" winner! Keep watching Fast N Loud on the Discovery channel. The Paint Chop painted Brad's very popular car.
---
HRIA Mailbox Charity Auction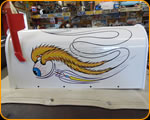 Casey striped this mailbox for the Sema Select Committee for the Hot Rod Industry Alliance. Sema has two charities Victory Junction Camp and Child Help. It will be at the SEMA show in Las Vegas.
---
Paint Chop News From The Past
Casey Lettered this truck for Mark Friedline back in the 90's.
Here is an ESPN clip of the NTPS "Going Big Time" in action!
---
Street Rod Nationals East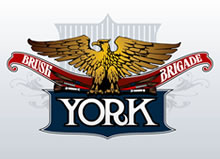 The Paint Chop crew will be at the Street Rod Nationals East at the York Expo Center in York, Pennsylvania. Striping with the Brush Brigade to raise money for the for the Make-A-Wish Foundation on June 5-7, 2015.
---
Jalopyrama Reunion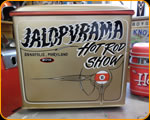 The Paint Chop crew will be striping at the "Jalopyrama Reunion" in the the Carroll County Maryland AG Center Arena in Westminster, Maryland on October 24, 2015. Casey's Rat Rod will also be displayed inside.