June Issue Cycle Source
Check out Psycho Buzzard in this months issue of Cycle Source.
---
Trucks for Smiles
Pinstripe Master Casey Kennell hand painted this panel for the Trucks for Smiles charity auction. The Tramp inspired piece brought $5000 to the Make A Wish Foundation.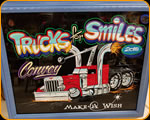 ---
Pinstriping and Hand Lettering Premiere Artwork Pieces
Check out some of the cool artwork that World Class Pinstriper and Hand Lettering Casey Kennell has done over the years for various charities!
---
Vintage Sign
This vintage arrow sign was originally an old meat sign. Master Artist Casey Kennel then created a Chevrolet Service sign to make it look vintage.
---
BOOTLEGGER
The Paint Chop just finished the Bootlegger trailer for the NTPA Super Nationals in Tomah, WI.
Super City Auto Repair painted the trailer then Master Artist Casey Kennell laid down the lettering and artwork.