HRIA Mailbox Charity Auction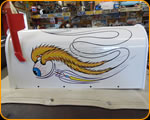 Casey striped this mailbox for the Sema Select Committee for the Hot Rod Industry Alliance. Sema has two charities Victory Junction Camp and Child Help. It will be at the SEMA show in Las Vegas.
---
Paint Chop News From The Past
Casey Lettered this truck for Mark Friedline back in the 90's.
Here is an ESPN clip of the NTPS "Going Big Time" in action!
---
Thunder Roads Pennsylvania
Check out the 2015 February issue Thunder Roads Pennsylvania. What a great article on 40 years with Casey Kennell.
---
Pittsburgh World of Wheels
The Paint Chop crew had a great time at the World of Wheels in Pittsburgh at the David L. Lawrence Convention Center striping with the High Scrollers for the charity Auction on January 23-25, 2015.
---
I-X Piston Powered Auto-Rama
The Paint Chop crew will be at the Piston Powered Auto-Rama in Cleveland, Ohio at the International Exposition Center on March 20-22, 2015 striping with Krazy Paint for the charity Auction.
---
Street Rod Nationals East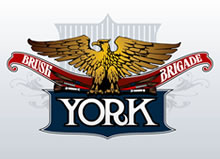 The Paint Chop crew will be at the Street Rod Nationals East at the York Expo Center in York, Pennsylvania. Striping with the Brush Brigade to raise money for the for the Make-A-Wish Foundation on June 5-7, 2015.